J Lohr South Ridge Syrah 2014
---
Region: Paso Robles, California
Wine Enthusiast: 91 points
Vivino app rating: 3.9/5
Average Price: $15
It was a Saturday night, and my husband and I decided to get some Korean BBQ going. We whipped out the charcoal grill and put this amazing kiwi, onion, soy, ginger, and hot sesame oil puree on the meats (short rib, chicken, and pork). Sounds like a weird combination, but the kiwi and onion breaks down the meat to make it more tender while the actual sauce tasted like an Asian soy ginger dream. Anyway, I needed a wine that would pair best with all of the meats and this bold, spicy sauce that they were marinated in. The syrah was my pick here because it is bold enough to offset the spice on each meat with soft tannins that did not burn the throat. The J Lohr Syrah paired perfectly, and I was impressed.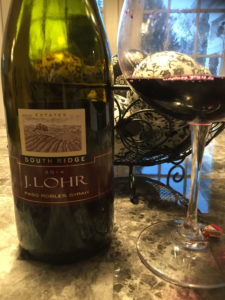 I generally like J Lohr wine. The Hilltop Cabernet is excellent, and even the less expensive Cabernet is enjoyable. Excited to see a Syrah by J Lohr, I picked it up for our Korean BBQ adventure. Black plum and strawberries lead the way in flavors of this wine. It has a soft, lingering finish, almost a cooling in the mouth which complimented the spicy Asian sauce we used very well.
Outside of my Korean BBQ dish, Syrah can be paired with smoky meats, lamb or venison.
I would rate this wine higher than the Vivino rating. I would raise it a tad to a 4.0/5 I really enjoyed the J Lohr Syrah and will definitely be buying this bottle again. It is affordable and hits the spot. Wegmans sells this bottle for $12.99 while the average price is around $15. If you like bold reds, try this Syrah!