La Cipollina- Freehold, NJ
Take a trip to Downtown Freehold, and check out La Cipollina. La Cipollina is a small, elegant Italian BYOB establishment providing a great, intimate experience for their customers. The white table cloths and servers dressed so well sets the precedence instantly. Step in to pure Italian romance at La Cipollina; Anthony Braica and Chef Matt Higgins do it right. Being profitable and relevant for over 30 years means they must be doing something right. La Cipollina's website states,
Anthony Braica established La Cipollina three decades ago. The central goal was to create a team of exceptional characters with unmatched work ethic, refinement, and ability to provide customers with an experience of unparalleled quality and service, focusing on authentic Italian cuisine with a fresh, flavorful, artistic approach. We have evolved from a restaurant into a unique family with the ambition and aptitude to realize that goal.
We decided to do the six course tasting menu to get a better feel for each dish. I definitely rolled out of the restaurant afterwards. Portions were generous and delicious. I want to discuss the unique highlights of the meal; let's start with pastas. The ditalini and the lobster ravioli are great. Pasta is fresh, something any Italian or pasta lover will appreciate.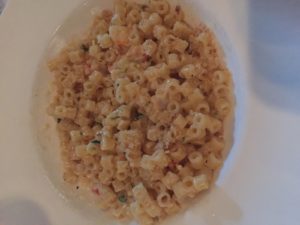 The ditalini is made with truffle, lobster, and mushrooms. It reminds me of a sophisticated lobster mac and cheese.
The lobster ravioli is made with truffle cream and caviar. The sauce is delicious. Two different dishes that are both equally as satisfying.
The mushroom risotto was yet another course we had and was cooked perfectly. Risotto can be a difficult food to master. Sometimes chefs under cook or over cook this tedious rice dish, but the professionals know how to cook it just right. Chef Higgins hits this one home.
The Berkshire pork chop entree was beautifully executed on the medium rare side. It was tasty and picture perfect. The Colorado lamb with pistachio crusting and mint pesto was cooked to perfection.
The customer service at La Cipollina is outstanding. The servers treat you like gold from the moment you sit down to the very last moment you're there.
Bring your favorite wine and head to La Cipollina for a delicious Italian meal. On a side note, they also offer cooking classes and live entertainment every Friday and Saturday night.