Loaded Waffle Hash Browns
We love to brunch on Sundays, and the best place to do it is at home when you can prepare the most awesome recipes (and drink unlimited brunch beverages haha). Check out this loaded waffle hash brown recipe! You can thank me later!
Loaded Waffle Hash Browns
INGREDIENTS:
Serves: 4
2 tbsp of butter
2 stalks of green onions
1/4 cup of yellow onion
1/4 cup of dried chives
1/2 red pepper
1/2 green pepper
4 russet potatoes
1/2 cup of shredded cheddar cheese
1 tbsp of salt & pepper respectively
3 tbsp of bacon crumbles (or two strips crumbled)
4 eggs
DIRECTIONS:
Peel & julienne the potatoes. You can either use a kitchen aid julienne or manually cut the potatoes in to thin strips. If strips are too thick, you won't get a crisp "waffle." We are looking for crisp on the outside and soft on the inside. Additionally, you must make sure the potatoes are dry. Cheese cloths are great. If you don't have them, you can use paper towels.
While you're drying the potatoes, in a frying pan saute add the butter, minced red and green peppers, and yellow and green onions. When onions begin to brown, this mixture is completed.
Add the salt, pepper, and frying pan mixture from step 2  to the hash browns. In addition add the dried chives to the hash browns as well.
Put the mixture in to a waffle maker on a medium setting until crisped to preference. Make sure the grates of the waffle maker are oiled. If you do not have a waffle maker, you can fry hash brown patties in a pan with vegetable oil, crisping both sides.  
When the hash browns are about ready, start the eggs in a new pan on a low heat setting. You will make the egg sunny side up. Make sure the egg does not break.
Add part of your shredded cheddar cheese directly on top of finished hash browns. Do not use all of it as we will need more later.
Put one sunny side up on top of each hash brown waffle. Add a little shredded cheddar cheese on top of each egg. Place in the oven at 350 degrees for about 5 minutes until the cheese is melted.
Remove from oven, and add crumbled bacon on top. You can add avocado garnish if you would like. Enjoy!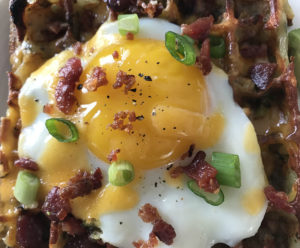 THE PERFECT PAIR:
orange juice goes with any hearty breakfast, so enjoy a mimosa with your favorite orange juice and champagne. We love a good Prosecco like La Marca or Nino Franco Rustico.