One word to describe my feelings on TAKA: Obsessed! I am in love with this little Japanese restaurant on Cookman Ave! This was surely a great addition to Asbury Park and now with the addition of the bar in its new Cookman Ave location, this place is a perfect spot.
I love Sushi, and I truly have an appreciation for a good, well-rounded Japanese restaurant. TAKA checks off every requirement on my list. TAKA tops my list for Japanese restaurants in the Shore area. This is no joke! You must visit this place if you love sushi and good Japanese food. Let's start with drinks. The TAKA Sake Sangria is phenomenal. The bartender told us ahead of time that it was a little sweet and sugary, but I think that is a bit of an overstatement. It tastes like really good Sangria that emphasizes a berry flavoring. It was not overly sweet. We also got the Malbec, which was good as well. Full disclosure: this was the first time Paul and I struggled on what to order off the menu. We are usually quick and efficient, but we wanted to eat everything off the menu and had to make our order strategic. For our appetizer, we got the crisp spicy tuna, which is pan-fried rice cake topped with spicy tuna and fresh jalapeno. Wow, very good! They were bite size too so they were easy to eat. The taste was phenomenal. We also got the red dragon roll and the jalapeno shrimp roll, which consisted of steamed shrimp, pickled jalapeno, mango, and mint topped with salmon, wasabi mayo, and jalapeno masago. For those of you who don't know, masago is just plainly roe (small fish eggs). I am not a huge fan of roe, but it did not bother me here at all. This role was delicious and super fresh. The mint initially came off as a little perfume-like, but this roll was outstanding. There are so many good rolls here to choose from, and I am sure they're all amazing. Chef Hirai, what is your most popular roll? I would be so interested to hear about the inspiration behind some of your more creative rolls. They're truly phenomenal combinations.
For my entrée, I had the shrimp curry and asked for it on the spicier side, of course. This curry was not soup like, but provided a substantial meal. The curry was so tasty, but not overpowering at all. The shrimp was fresh and delicious, and the white rice was cooked to perfection and tasted delicious in the curry sauce. We also got the BBQ salmon. It was the perfect portion size since we ate an appetizer and a roll, but if you're eating just an entrée, you may not be full from the salmon. However, the BBQ salmon was delicious as well. It was broiled and cooked to perfection as well as very fresh. It came with a side of risotto and cooked vegetables. Paul is a risotto snob (haha) and said the risotto was maybe one of the best he ever had! You know from our other reviews that Paul is a harsh risotto critic. I think TAKA made him fall in love. For dessert, I got one scoop of the green tea gelato. I have convinced myself a little green tea ice cream helps people digest. Who am I kidding? It's just an excuse to eat ice cream. We also got the coconut sorbet. The sorbet was creamy and maybe one of the best consistencies I have ever had.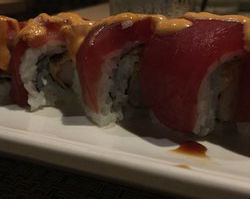 The atmosphere is trendy and fun. I love the colorful artwork on the wall. The dining room area is romantic and quaint. This is a great spot for happy hour at the bar or for a nice dinner in the dining room. Take your pick!
Customer service was excellent. Our waitress was attentive every step of the way, even when we took a little longer to decide what to order. I was happy with everyone here from the hostess to the waitress, all the way to the cooks.
You definitely pay for what you get here. I can assure you if you like Japanese food, you will not be disappointed. The food is so fresh and delicious. The plate presentation is great as well, and it is worth every penny, I promise.