Meiomi Pinot Noir 2014
---
Region: Sonoma, California
Wine Enthusiast: 88 points
Vivino app rating: 4.1/5
Average Price: $19.99
It's wine Wednesday again and this week, I am writing about Meiomi Pinot Noir 2014. What a pleasant surprise! Once my husband saw the screw top on the bottle, he said, "Oh no, it has a screw top? It can't be that good." Well, if you're one of those people who equate screw tops with cheap wines in price and taste, please look the other way on this one because Meiomi is a win! Meiomi Pinot Noir is garnet in color and has flavors of blackberry, dark cherry, mocha, and vanilla. It is such a smooth and uplifting wine! There is also an aspect of oak that gives this wine an edge over other Pinot Noirs. There is just something soothing about this balanced and delicious wine!
This wine pairs well with pork or lamb, especially with stronger flavors. If you're feeling in a fish mood, you can get away with enjoying it with salmon.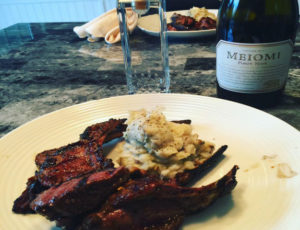 I would rate this wine exactly how Vivino members have rated it, a 4.1/5.0. It is absolutely spot on. If you're a Pinot Noir lover, go try this wine; if you want to start drinking Pinots, start with Meiomi! Happy Wine Wednesday!