Gnarly Head 1924 Red Blend 2014
Gnarly Head 1924 Red Blend 2014
---
Region: Lodi Region, California
Wine Enthusiast: 90 points
Vivino app rating: 3.8/5
Average Price: $11
Amazing value and amazing taste! The dark ruby colored wine is smooth and full of spicy and licorice tastes and aromas. The blackberry and raspberry notes are mesmerizing. I was so happy drinking this wine. It literally made my night.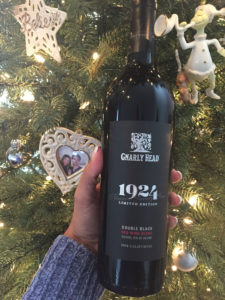 Some cool tid bits about the winemaking:
Fruit for Gnarly Head 1924 Double Black was harvested during the cool night hours and then delivered to the winery. Following de-stemming, the grapes were fermented slowly in stainless steel fermenters and then pressed gently into stainless steel tanks. The wine was then racked onto a combination of French and American oak to age for several months to further develop layers of complexity in the final blend.
The Gnarly Head 1924 Red Blend pairs well with spicy meats, lamb, and any meats smothered in BBQ sauce!
I really like this red blend a lot, and I believe the Vivino rating is so underrated! I would rate this wine a 4.0/5. The value is awesome and my husband and I agreed that it is a smooth, inviting wine! Give the Gnarly Head 1924 red blend a try!