Best U.S. Foodie Cities for Valentine's Day
Valentine's Day is quickly approaching, and I am outlining the top five foodie cities in the U.S. for not only a perfect scene for some romance, but also with the best foods for your palette to fall in love with. The food scene is always changing and growing, so take a look at this year's hottest foodie cities for you to fall in love in more than one way!
5. Providence, RI
Providence, Rhode Island gets overlooked a lot for their cute town with robust foodie spots, but we are definitely not overlooking this little city! Take a walk to Federal Hill or Downtown Providence to find the best foodie spots along with a little romantic ambiance in and outside of the restaurants! Historic Federal Hill begins at Atwell Avenue and is stocked with some awesome chefs waiting to cook you up some top notch meals. Checkout Siena or Camille's for some good Italian food or Gracie's for some classic, upscale American fare.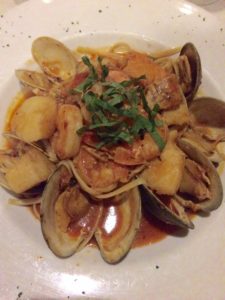 4. Portland, OR
Have you ever heard of James Beard? "James Andrew Beard was an American cookbook author, teacher, syndicated columnist and television personality. Beard was a champion of American cuisine who taught and mentored generations of professional chefs and food enthusiasts." Portland is the birthplace of James Beard and has a standard to live up to! Portland is not only a beautiful city with mountain, water views, and wineries, but also a foodie spot! Check out some great Peruvian food at Andina or French food at Le Pigeon. So many great restaurants to choose from makes it difficult, but you can definitely find something you love here in this endearing city.
3. Washington D.C.
Take some time to visit the nation's capital along with their foodie scene! Endless cultures pouring into this city is what creates the ethnic and diverse restaurant offerings here. Not to mention, parts of D.C. are gorgeous and makes it a great city to embrace eachother and the scenery for the sunset pre-dinner. Stroll over to Blue Duck Tavern for excellent American fare, Rasika for some modern, award-winning Indian food, or Fiola for their top Zagat rated elegant Italian.
2. Napa Valley, CA
The rolling hills of Napa Valley are picturesque and beautiful. Napa is always known for the amazing wines and winery experiences, however it gets overlooked for its food. Never making the top foodie city lists, I am here to shed some light on this and make it number two on this list! Napa offers amazing restaurants that some would argue can compete with the best of New York City. Napa is the perfect foodie and wine lover spot, offering something for everyone. Here, you can also begin to learn about the wine and food pairing experience if you choose. Pairing wine with food accentuates tastes for an ultimate foodie journey. Plus, a little addition of wine to the scenery helps for a romantic setting, if you know what I mean… 🙂 Chef Thomas Keller has three amazing restaurants in Napa: The French Laundry, Bouchon, and Ad Hoc. He also has Bouchon Bakery, which is great for a little sweet after dinner treat. Additionally, check out Celadon in Downtown Napa for some eclectic comfort food or Redd in Yountville for an unforgettable dining experience.
1. New York City
No surprise here. The Big Apple comes through at number one with their diverse and immense amount of fabulous restaurants and famous chefs at the helm of them. The city can be magical when you hit the right spots, so why not wine and dine your special someone at the foodie spot of your choice under the romantic lights of New York City. Check out Per Se or Le Bernadin for some upscale French fare or Spark's Steakhouse for some exceptional steaks. Gramercy Tavern is also well known in the city for its delicious New American food and awesome wine list. One if by Land, Two if by Sea is a very romantic spot as well nestled inside what once was Aaron Burr's old carriage house. Some of the best finer chains live in the city as well such as Hakkasan, STK, and Wolfgang's. There is something for everyone in New York City, and you can't go wrong here!
Well, here you have it, my top 5 U.S. foodie cities with the perfect Valentine's Day ambiance. I know, there are plenty more awesome foodie cities in the U.S., but these all are special for more than just their food. If by chance is you don't have a special someone, treat yourself and have your palette fall in love. Hope everyone has a great Valentine's Day.