Del Dotto Vineyard's Delicacies: An Unforgettable Napa Experience
Ah, the beautiful Napa Valley has so much to offer from the stunning views of the rolling hills and vineyards to the exceptional cuisine and wines. There is so much to do and so much to see! Coming to Napa Valley can be overwhelming; there are so many places to hit and impossible to hit them all as a visitor unless you have atleast a month to spare. Somewhere to absolutely hit is Del Dotto Vineyards!
One of my favorite experiences that I would absolutely recommend to any visitor to Napa Valley is the Delicacies by Del Dotto experience. My husband and I did this, and it was the highlight of our trip. It encompasses all of the great things of Napa: amazing, unique wines, delicious food pairings, and a gorgeous atmosphere.
Del Dotto Vineyards is a family owned vineyard that focuses on the small production of premium wines. These are not wines that you will find at your local liquor store, so I suggest you buy any bottles that you like while tasting! They have wineries in Napa and St. Helena and produce predominantly Cabernet Sauvignon, Cabernet Franc, Merlot, Sangiovese, and Sauvignon Blanc from their Napa Valley vineyards. Also in production are Pinot Noir, Chardonnay and limited amounts of Syrah and Sauvignon Blanc from their Cinghiale Vineyard in the King's Ridge region on the Sonoma Coast. Visit deldottovineyards.com for more information and history!
Del Dotto Winery in St. Helena is breathtaking. It has a Venetian feel, and you automatically feel like you have stepped in to a palace from the moment you walk in. The Delicacies experience begins with a guided tour of the cave. In 2007, they built the winery and cave in the St. Helena location which is absolutely stunning. In there, our knowledgeable and helpful guide, Brandon, let us taste wines from the barrels including current releases and wines which were to be released in a couple of months. We tasted about five to six wines and spoke about them all. We learned about how grapes were chosen and the difference between French and American oak barrels. I'm not going to spoil it here, but it is so interesting how the barrel impacts the wine!
After the barrel tasting in the cave, we went upstairs to a private dining area. Lunch consisted of a five course tasting menu, each paired with one of their wines. Joshua Schwartz is the chef here, and he is outstanding. He has previously worked for some fabulous local restaurants in Napa such as Bouchon and The French Laundry and also previously served as the private dining chef at Per Se in New York City. Each course was immaculate and perfectly paired with the wine for the ultimate tasting experience.
My favorite course was the wagyu beef slider, however that was a hard decision to make since all of the courses were great. Of course, we bought some wine at the end of this phenomenal experience! My favorites were the 2014 St. Helena Mountain Cabernet Sauvignon and the 2015 Russian River Zinfandel. I am normally very picky about my Merlots, but the Merlot included with the tasting menu was excellent, and I would recommend this for any Merlot fan!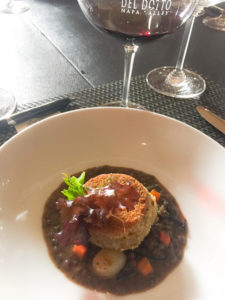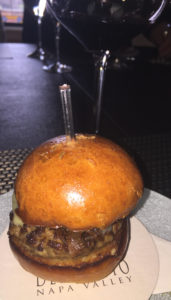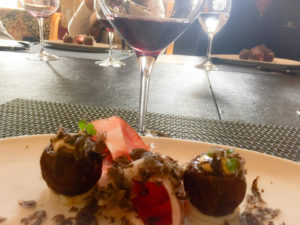 Thank you so much Del Dotto Winery for this amazing experience. We had so much fun and highly recommend it to anyone visiting the Napa Valley area! Make sure you make your reservation ahead of time! Salute!